Seize the day, says Jürgen Klopp:
Neil Jones
(@neiljonesgoal)

The message in Jürgen Klopp's programme notes… #LFC pic.twitter.com/NdG63xGFTM

April 24, 2018
Today's starting line-ups have been announced:
Liverpool: Karius, Alexander-Arnold, Lovren, Van Dijk, Robertson, Oxlade-Chamberlain, Henderson, Milner, Salah, Firmino, Mané. Subs: Mignolet, Clyne, Wijnaldum, Klavan, Moreno, Ings, Solanke.
Roma: Alisson, Fazio, Manolas, Juan Jesus, Florenzi, De Rossi, Strootman, Kolarov, Under, Nainggolan, Dzeko. Subs: Skorupski, Lorenzo Pellegrini, Perotti, Schick, Gonalons, Bruno Peres, El Shaarawy.
Referee: Felix Brych.
Liverpool FC
(@LFC)

Tonight's #LFC side. #UCL pic.twitter.com/eDkVigc1LB

April 24, 2018
AS Roma English
(@ASRomaEN)

TEAM NEWS | ? | Here it is, our starting line-up for tonight's @ChampionsLeague semi-final clash against @LFC! DAJE! ?
#ASRoma #UCL #LFCRoma pic.twitter.com/6lX5AWzL6X

April 24, 2018
Pre-match reading (3) There's lots more where this came from.
Here's a live picture from outside Anfield. Scenes.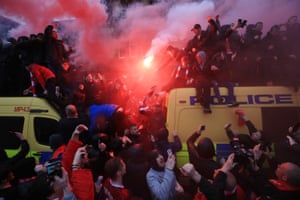 Fans on top of a Police van before the Champions League semi-final between Liverpool and Roma at Anfield. Photograph: Peter Byrne/PA
Pre-match reading (1) There's lots of stuff for you to read while you wait for the action to begin. Here's a starter:
Hello world!
So I went on holiday for a couple of weeks over Easter, somewhere distant and remote, where mobile phones don't work and internet access is poor, and completely missed the Champions League quarter-finals. What I heard, though, sounded excellent. And it is perhaps those snippets, stories of ludicrous overhead kicks and remarkable comebacks, that have contributed to the feeling I have now, a feeling that can only be described as intense, childish anticipation.
Perhaps the particular edge-of-the-seat, full-throttle nature of this Liverpool team has contributed, or the fact that Roma's side is crowded with players who for various reasons I rather like, or indeed the fact that Roma happen to be Italian side I have most often seen live, or that I am just about old enough to remember Liverpool's first and most famous match against these opponents. I don't support Liverpool or Roma, the last football match I watched was extremely poor and less than 24 hours ago, I am spending another evening in the office – but I am excited. Please, football gods, don't let me down tonight.
Statistical pointer dept: Roma have only won one of their last 14 away games in the Champions League, but their away record in Serie A is pretty good – the third best in the league, in fact (they're No6 at home, and third overall). They have also only won one of their 19 European fixtures in England (it was at Liverpool in 2001, though it was only 1-0 and they had already lost 2-0 at home).
Right then. This is going to be good. Isn't it?